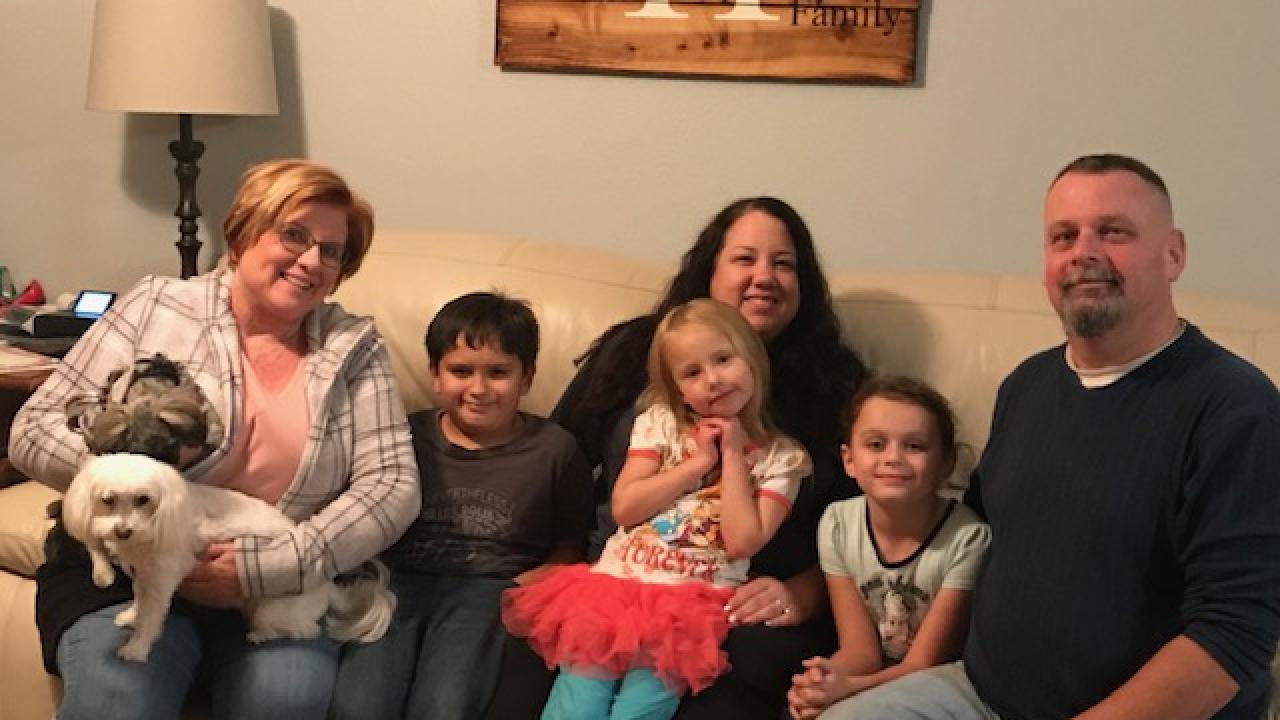 That's what Kristen, then a foster mom, told the social worker about Katie when things in the home seemed overwhelming. Katie, now 5 ½, came to them after others couldn't manage or meet her needs, but Kristen's family made a commitment to make things work. But they soon realized they needed help.
Tom and Kristen have a blended family. Their home includes Tom's youngest kids: Gabe, 10, and Candace, 7. Tom's oldest daughter is also in the home on occasion. Kristen's mother, Gail, aka Nonna, is the "backup" for Tom and Kristen when they can't always be there for the kids. Tom and Kristen are both healthcare professionals with varying schedules and often work long hours or overnight shifts, so Nonna is there to help when schedules are busy or support is needed.
Just over a year ago, a call came in from the social worker about another foster child. Previously, Kristen had been a foster parent for babies with delicate medical conditions. Katie was not a baby but she did have some unique medical issues, at times requiring hospitalization. The family welcomed Katie in their home, but they soon found typical household routines and relationships were challenged. There was lots of competition for attention and lots of frustration. According to Kristen, they could not leave Katie unsupervised.
"We didn't know what to do or how to meet her demanding needs, but we were determined not to give up," said Kristen. "We felt like Katie needed a stable home where she could feel safe, where she felt like she belonged." 
As Katie continued to challenge everyone in the family, Kristen called the social worker. Instead of asking to have Katie removed, Tom and Kristen asked for help to make it work.
The family needed help managing some of Katie's obvious unmet needs, and Wraparound stepped up. They were flexible to work around challenging schedules to ensure everyone felt heard. Gail was an integral piece of the puzzle and was included in Wraparound. According to Kristen, "Wraparound was a support to everyone, all of us, not just Katie."
Wraparound came to the family home weekly to assist with whatever was needed. They facilitated meetings to create a plan with goals and develop a reward system. They made sure everyone was heard and was a part of the plan. Katie received counseling and special one-on-one time with the Wraparound youth specialist, and the family learned how to play sensory games that helped Katie become grounded.
"Katie loves dancing and music," stated Tom. "She started listening more and using her words instead of her behavior to express her unmet needs."
Tom mentioned he learned about attachment and bonding specific to Katie, and that slowly Katie began listening and responding. "Wraparound reminded me to use positive reinforcement," explained Tom.
The family began looking forward to meetings and sharing their weekly accomplishments. "Each of us got acknowledged for what was going right" said Kristen.
"I'm so proud of both of Kristen and Tim", Gail said. "They have overcome so many obstacles and we have a great family." Gail described her favorite activity they incorporated into a routine, what they call "date night."  "On date night, each adult spends individual time with one of the kids" Gail explained, "That way, each child has special time with an adult, then next date night is with a different kid."
"We each do something special with them, and it gives each of us the chance to strengthen our relationships," Kristen added.
Kristen also realized how important it was to spend one-on-one time with her parent partner. She felt her parent partner gave her great advice and was a good listener. "I got so much support and she always seemed to know when I needed a break from everything."
The kids don't recall specific Wraparound team members, the process or Wraparound events. What they did recall were more fun times as a family and one very special recent event. "The Celebration," they called it. Not the Wrapround graduation party, but Katie's adoption!
Katie found her forever home…made possible by the loving commitment and hard work of all the family members and, in part, a little support from Wraparound.  Now, that's what we call GIFT WRAP!
Category
Tags