Building Trust to Build Immunity
UC Davis Surgeon Dispels Myths about COVID Vaccine among Communities of Color
As COVID-19 vaccinations become more readily available, it may seem like we are close to the end of the pandemic, but the race is not over yet. Many Americans are wary of the vaccine, and as vaccine hesitancy persists, the progress toward herd immunity slows. As of March 2021, the Kaiser Family Foundation (KFF) has shown that 32% of non-healthcare essential workers are resistant to getting the vaccine, and 25% are hesitant to do so without more information.
Communities of color in particular have expressed distrust of the vaccine, which stems from the vast history of mistreatment and abuse that the medical system has inflicted upon Black and Indigenous communities. The KFF reports that 34% of Black adults remain hesitant to get vaccinated, revealing the damaging effects of medical racism on national health. Many Black healthcare leaders have tried to mitigate this skepticism by broadcasting information about the vaccine.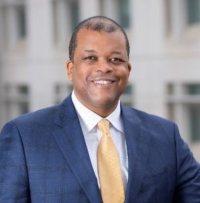 Dr. David Tom Cooke, head of general thoracic surgery at UC Davis Health, has taken it upon himself to use his experience as a Black American and a medical professional to dispel the fear surrounding the COVID-19 vaccine. Cooke received the vaccine in a clinical trial in August of 2020. "When you look at the scourge of the COVID-19 pandemic, communities of color are disproportionately affected in regards to death," Cooke told Associated Press in January. "Therefore, it's imperative that we enroll people of color into these clinical trials enough to show they're effective in these really at-risk communities. I felt that in order to increase enrollment, I needed to walk the walk."
Cooke has been active in sharing his experience on social media and in interviews, producing content—like this video—to encourage people to get vaccinated.
"It is not the responsibility for our communities of color that have been traditionally disadvantaged to trust us," says Cooke. "It is the responsibility of care providers, for health care, to establish that trust."
If you have found Dr. Cooke's story informative, we encourage you to help his mission by passing this information to anyone you know who may harbor doubts about the COVID-19 vaccine.
More resources are available here in multiple languages.
By Sai Siddhaye, UC Davis Continuing and Professional Education
Primary Category