12 Tips for Small Counties around Implementation

By Alison Book, Director, Northern Academy
Small counties face unique challenges when implementing new mandates or practices in child welfare, including limited staff, funding and other resources. Implementation science tells us that successful implementation requires attention to executive (leadership level), cross-system and day-to-day functions—and leaders in small agencies are frequently, and sometimes solely, responsible for attending to all of these. 
Here are some tips that can help small counties maximize their strengths to support implementation of any new practice or mandate.
Leadership and Organizational Readiness
Identify your own "why."

The fact that a practice change is required isn't sufficient to make it matter to staff. Identifying what makes it personally and professionally meaningful to you and your agency is important to gain buy-in. Take the time to explore with staff: What are the values they hold that make this worth the time and effort it will take to implement? How do they see it benefiting children and families?

For any new initiative, invest the time to map out your existing practices and how the new practice aligns.

Where are pieces of the new mandate already being done? What existing practices fit with the new practice? Lead staff through a process of mapping the work so they don't feel overwhelmed by "one more thing" but can contribute to a shared process of identifying how it fits with the work they are already doing.

Model, model, model

. For initiatives that ask staff to change their behavior, it is critical that leaders model the practices and behaviors they wish to see in staff. This costs nothing, takes no extra time and is crucial to making the change happen.

Ensure you have a dedicated implementation team responsible for moving the work forward.

In a small agency, this may be your entire leadership team or even your entire staff, but even tiny counties need to ensure there are specific people who hold responsibility for attending to all implementation drivers: leadership and organizational processes, workforce development, data and CQI, and partnerships.
Workforce Development
When training to any new practice, start by training supervisors and getting them on board.

Supervisor buy-in is critical to moving any change forward, and supervisors themselves must be proficient in any new practice in order to model it and coach their staff.

Coaching is critical in ensuring transfer of training to actual practice.

Small counties typically lack resources to support specific coach positions or outside coaches, so supervisors, managers and other leaders must be proficient in and actively using a coaching approach.

Consider "diffusion of innovations."

Even on small teams, staff are distributed across innovators, early adopters, early majority, late majority and laggards. With supervisors, identify which staff are innovators and early adopters, and engage them in implementation teams, planning sessions and piloting new practices. Then have them be the voice with their peers about the positive impact of trying the new practice in their work.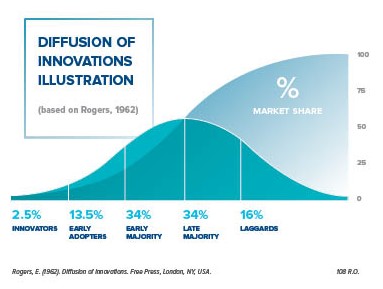 Using Data for Understanding and Improvement
Create an agency culture of CQI at all levels

. Small agencies may lack dedicated staff who can "do CQI." Yet this provides a strong incentive to create an agency culture of CQI at all levels, which is ideal. Create a culture where everyone understands that continuous quality improvement is part of their job. For example, have supervisors pull one or two cases per month, per worker, to review for fidelity to the new practice. Share data with staff and ask them to participate in making sense of it. In a small agency, you can bring together your whole team to ask them to reflect on trends and changes they are seeing. Engage them in discussion around how you all would know the practice change you are implementing is happening and if it is making a difference for kids and families.

Use existing meeting opportunities to gather qualitative data from staff

. What do they think is working well about implementation? What are their worries? What do they see as next steps?
Building and Engaging Partnerships
Identify key stakeholders at the beginning and engage them even before starting to roll out the change.

When beginning any process of implementation, ask yourself and staff: Who else needs to know about this? This is even more important in small counties with limited resources, as partners can help identify creative ideas for local implementation.

Use existing opportunities to engage community partners.

What regular meetings do you have with court partners, tribes, community providers, behavioral health and others? Add a standing agenda item for what you are implementing so that it is consistently addressed over time at these meetings.

Use existing meeting opportunities to gather qualitative data from partners

. What do they think is working well about implementation? What are their worries? What do they see as next steps?
No matter how small your team, attending to these four areas of implementation is vital. Using existing resources and building on the strengths of small agencies—their macro view, tight-knit teams and community relationships—can help ensure success.
Primary Category
Tags